Jreed, Velcro Gloves Shearing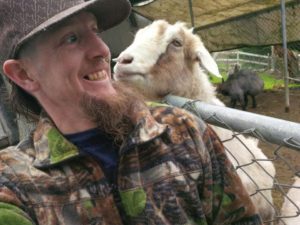 My name is Jreed and I am the founder of Velcro Gloves Shearing.
I was born in South Carolina and have lived primarily in Sonoma County, CA over the last 15 years. I currently reside in Southern Oregon.
I have tons of agricultural skills, having lived and worked on farms extensively during this time. I have horticultural and landscaping experience as well as experience raising poultry (chickens, turkeys, ducks) and in wine production, having managed the cellar of a small family winery for 8 years. In addition I manage a flock of about 80 sheep with a friend.
I got interested in shearing because I could not find a shearer who would shear my own small flock and this lead me to the UC Davis shearing course.   I have attended this course 4 times and am a Jr. level shearer. This means that I usually take 6-10 minutes to shear a sheep (dependent on breed and condition) and usually shear flocks of sheep 50 and less. Mostly I am dealing with flocks of 5-30. I have sheared several thousands of sheep in the last 5 years since I first attended the program.
My goal is to maintain a one piece fleece in good condition while being as gentle as possible on the sheep. I have sheared all breeds of sheep including horned breeds, but I do not do club or fair based grooming.
I do shear llamas for folks who use them as guardian animals but this is a special service for clients with sheep. Llamas must be caught and haltered ahead of time and the owner must help with the shearing process. This is not part of the ASI shearing class and certification and there is no standard.
In addition to my work as a gardener and shearer, I am passionate about dogs and keeping poison off of farms.   I have one of the only packs of working ratting terriers in the US. You can learn about this traditional method at themongrolhoard.com
Why Velcro Gloves?  Ask me again when you meet me in person.